| Currency | Buying | Selling |
| --- | --- | --- |
| US Dollar (USD) | 158.50 | 160.00 |
| EURO (EUR) | 184.50 | 186.30 |
| British Pound (GBP) | 205.00 | 207.00 |
| Canadian Dollar (CAD) | 118.00 | 119.00 |
| Australian Dollar (AUD) | 110.50 | 111.50 |
| Saudi Riyal (SAR) | 42.15 | 42.50 |
| Emirates Dirham (AED) | 43.25 | 43.65 |
| Japanese Yen (JPY) | 1.4950 | 1.5050 |
| Swiss Franc (CHF) | 172.00 | 173.00 |
| USD TT/DD | 0 | 161.50 |
Update on - 31-10-2020
Note: Above Currency Rates are indicative. Please call us on
0800-80008 for confirmation. Thank you!
Fastest Way of Sending and Receiving Money From All over the World
Money Transfer
Home remittance is transfer of money by the overseas Pakistanis to Pakistan for their Loved ones.
Currency Exchange
Whenever you desire to exchange your Foreign currency, We are best for the solution.
Paragon Exchange Private Limited is in the business of Currency Exchange, since May 2011. Focusing our slogan "We Deliver Happiness" Paragon Exchange has join hands with Western Union FSI GmbH as an agent for Inward Remittances business in Pakistan. Parex is serving a broad customer base by its country wide branches network. "Paragon Exchange Private Limited", is registered as a private limited company with Securities & Exchange Commission of Pakistan under the Companies Ordinance 1984, and it is licensed by the State Bank of Pakistan (SBP) and according to FE-Circular No. 09 of 2002 of the State Bank of Pakistan, "An exchange company can deal in foreign currency notes, coins, postal notes, money orders, bank drafts, travelers cheques and transfers. " Paragon Exchange is also a valued member of "Lahore Chamber of Commerce and Industries" via its membership #74745-C. Registered Name: Paragon Exchange Private Limited. Registered Office: Plaza no 16, Commercial Zone, Cavalry Ground, Lahore Cantt, Lahore, Pakistan. SBP License #: 0032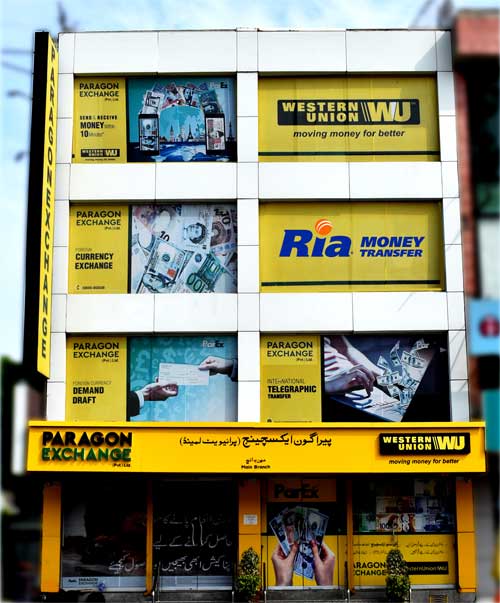 I have visited most of the branches of Paragon Exchange in Lahore and they provide very good services. Staff has always been very friendly and helpful; I would most definitely recommend them. You simply just won't find any better Exchange Company.

RABIA AKRAM

WU Payment Receiver
Whenever My brother visited Pakistan from USA I always exchange US Dollar with Paragon Exchange, their rates are much better than other exchange companies. Highly professional staff and high alert security persons at their Main Branch.

Wajeeh Haider

Currency Customer
Good customer care. Fast payment processing with complementary giveaways every time when received Western Union Payments. Well trained staff.
I would fully recommend their services.

SARFRAZ YOUSAF

WU payment Receiver
My daughter went abroad for study. I used to send money to her every month through Paragon Exchange. Quick and easiest way of sending money to abroad without any hassle. They have always taken care of their customers and I also received gifts from them. Recommended.

ROMANA AZMAT

WU Sender Customer